NEXTe(Neural EXTract engine)

Product Introduction
What is NEXTe?
NEXTe is a Learning Inference Engine that can learn and infer in real-time using neural network.
*A neural network is a computer system which forms ideas in the same way that human beings do. It imitates our brain activities by making a model of neurons, a kind of brain cells.

Usage
NEXTe is available in many fields such as SNS site and EC site dealing music, movies, books, games. Especially, it works effectively in the recommendation of contents and the items that have various tastes and preferences.
Advantages of implementation
Personalization.
Huge historical logs are not required.
High-speed and lightweight processing.
Processing need few resources, and run fast.
Platform
NEXTe adopts attribute based recommendation system that does not require huge historical information and particular platform.
So utilizing in EC site, music distribution site, implementing on media player, car navigation system, tendency predicting, direct mail marketing, infinite fields are available.
What is "Amount of Feature"
Amount of Feature is numerically expressed parameter which indicates features of contents.
【Radar chart sample】
Book, Comic, Paper contents
Music media contents
Video media contents
Fashion contents
Games
・・・etc.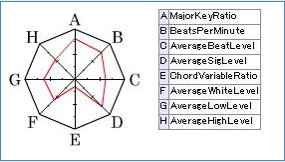 Sensibility search
Contents can be narrowed in the sense by using a genre, feelings, and a sensibility element for retrieval UI as a parameter.
As a result, it is possible to use it as service that retrieves contents near the user's image.
【SENSHUKAI Co.,Ltd. adoption example】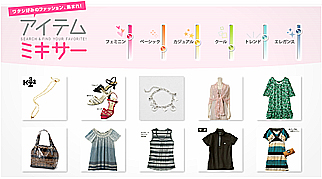 Automatic content categorization, genre categorization
The categorizing efficiency goes up by analyzing elements(genre, feeling, sensibility, content) automatically, and the retrieval tag becomes accessible.
【genre&sensibility】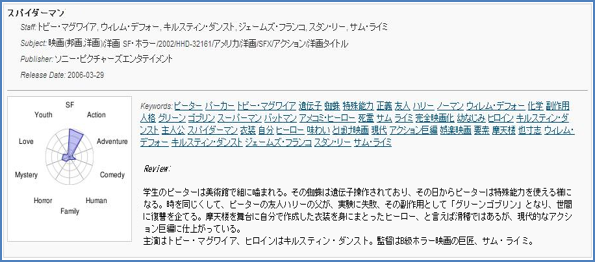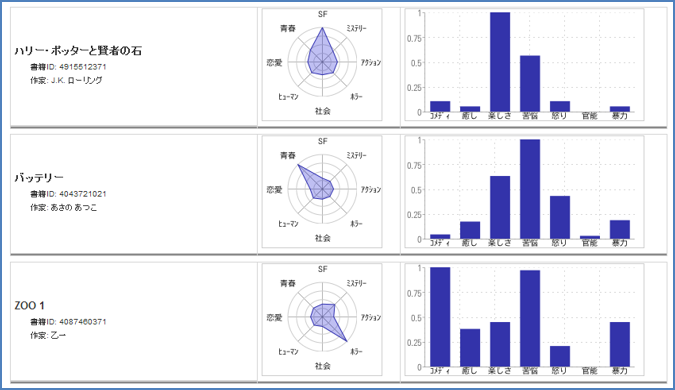 Inquiry about the product
Please contact us from E-mail form